Sacem and IBM Join Forces to Deliver New Global Online Music Copyright Management Platform
January, Thursday 12th, 2017

New URights platform applies IBM analytics on the cloud to track and capture music creators' and publishers' rights

IBM (NYSE: IBM) and Sacem, one of the world's leading cultural and creative collective management organizations, announced today a 10-year strategic alliance to develop URights, a world-class copyright platform on IBM Cloud designed to track and capture the value of online music for both creators and publishers.

Electronic distribution of music and advances in the streaming market have led to rapid growth in the amount of creative content being consumed around the world. Last year, Sacem tracked nearly 982.5 billion download and streaming transactions – almost twice the 2015 total.

To handle the exponential volume of music transactions online, URights the innovative rights collection and distribution services platform – co-developed by Sacem and IBM – will help to more effectively identify online rights.

The platform will allow Sacem to provide additional value to rights owners with increased data analysis allowing more transparency and a more efficient identification of online works to help ensure they are compensated fairly. In 2015, Sacem distributed royalties to 293,000 creators and publishers in France and around the world, to credit two million works.

URights is open by design to allow other partners to integrate, such as other collective management organizations across the world, ensuring to save cost duplications and enhanced data-driven decision making. It will also provide customized services tailored to the specific nature of their local markets.

The platform's flexibility provides Sacem the ability to address royalties for creators and publishers in areas such as audiovisual content.

Built on the IBM Cloud and infused with analytics solutions, URights is optimized for providing insights from data in a fast and easy way. IBM BigInsights for Apache Hadoop helps to manage and analyze trillions of digital sales made from the Digital Services Providers while IBM Watson Explorer will provide the ability to analyze structured and unstructured data to find trends and patterns from the data.

The platform will also offer creators and publishers new services to help them access and analyze market analytics, as well as to provide a better understanding of cultural goods consumption.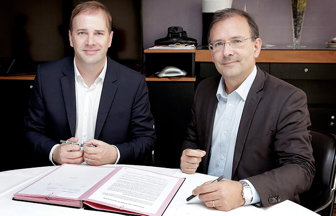 "Sacem is thrilled to partner with IBM, a global technology leader. We work constantly to improve our effectiveness and build on our leading position," said Jean-Noël Tronc, CEO of Sacem. "We are pioneers in a rapidly evolving global marketplace, committed to maximizing the value of our members' rights in a fragmented online world – not just for music rights but also for audio-visual works. We are passionate about ensuring a sustainable creative future by using the latest technology to enhance efficiency in identifying the usage of our members' works – in any digital media, on any web platform. URights will enable us to better optimize collections and distributions to our members and for all the repertoires we are mandated to protect, in the most transparent way."
"The music and media industries face many complex challenges in the management of copyright materials from music to visual creation. The combination of our digital skills, and advanced analytics running on IBM's global, secure hybrid cloud can help Sacem lead the industry to track and capture the value of online music," said Steve Canepa, General Manager, Global Telecommunications, Media & Entertainment Industry, IBM. "Responding to a marketplace that is changing every day, Sacem's expertise combined with IBM's advanced solutions enable us to deploy an agile platform that will deliver more transparency and efficiency in the protection and monetization of artists' copyrights."
○
About Sacem
The Society of Authors, Composers and Publishers of Music (Sacem) aims to represent and defend its members' interests in view of promoting musical creation in all its forms (from contemporary music to jazz, rap, hip-hop, French chanson, film music, music for video, etc.) along with other repertoires (humour, poetry, dubbing-subtitling, etc.). Its key mission is to collect royalties and distribute them to authors, composers and publishers whose works are disseminated or reproduced. A private organization, Sacem is a non-profit entity managed by creators and publishers of music elected to its Board of Directors. It has 157,270 members, including 19,100 creators from outside France (4,080 new members in 2015) and represents over 100 million works from the global repertoire. In 2015, Sacem distributed royalties to 293,000 authors, composers and publishers worldwide for more than 2 million works.
For more information about Sacem, visit www.sacem.fr/en
About IBM
For more information about IBM Cloud, visit www.ibm.com/cloud-computing
For more about IBM Analytics, visit www.ibm.com/analytics